Please call Lee from Acentria Insurance at 954-270-7966 for free quotes on Home Insurance, Auto, Flood, private Flood, Car, Business & Commercial Insurance as well as Life , Health and all group benefits large & small
Insurers, reinsurers and ILS investors could face significant losses from Hurricane Michael, a major Category 4 storm that began its assault on the Florida Panhandle Wednesday, according to a briefing from A.M. Best.
Best said although Florida's insurance market-share leaders possess strong levels of risk-adjusted capitalization that should provide a buffer against Hurricane Michael losses, there will still be an impact for insurers writing in the state, according to a new A.M. Best briefing.
Furthermore, while nearly all A.M. Best-rated Florida property companies have substantial property catastrophe premium, some have strategically limited their exposures in the panhandle, and therefore are not significantly exposed to this hurricane.
"However, the question of how the state's relatively new, Florida-specific insurers might withstand the impact of substantial insurable losses caused by Hurricane Michael remains," Best noted. "In addition, depending on the storm's intensity after making landfall, the potential for insurable losses could put some pressure on reinsurers. The actual impact of the hurricane will depend on a number of yet undetermined factors, but A.M. Best believes that most of the affected rated carriers have sufficient capital and appropriate reinsurance programs to withstand this event effectively."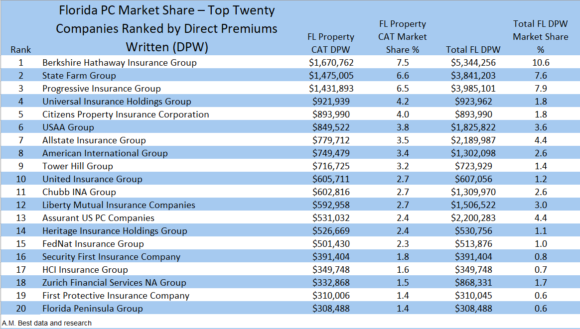 Please enjoy the full article below;