Please call  Lee from  USAsurance Powered by WeInsure & Calle Financial. 954-270-7966. My email is lee@myUSAssurance.com . I am Your Insurance Consultant  about Home Insurance, Auto, Flood, Private Flood, Car, Life Insurance, Mortgage protection, Financial Products, Business  & Commercial Policies, & Group Products for business owners to give Employees benefits at no cost to the employer. My email is lee@myUSAssurance.com
Around 70% of U.S. homeowners are uncertain of what is covered by their home insurance policy, according to a recent report by Plymouth Rock Home Assurance.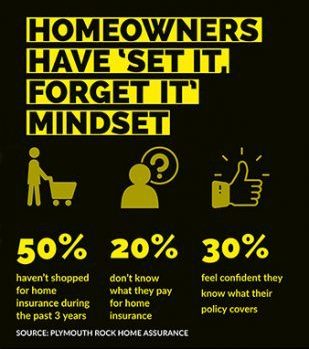 More alarming, 20% don't know how much they are paying for home insurance, according to the report. A factor driving this lack of awareness is how consumers pay for their home insurance policies. When insurance payments are separate from mortgages, homeowners are more likely to know what they pay.
Consumers focusing too much on getting a rate or qualifying coverage is the biggest driver of misunderstandings around what is covered by home policies, according to Bill Martin, president and CEO of Plymouth Rock Home Assurance.
"Everyone is out of patience by the time they get to coverage options and what the terms of that coverage are," he told PropertyCasualty360.com. "If you think being an intelligent buyer is spending whatever time it takes to get the lowest rate, then you inevitably miss that the policy does not have flood coverage. Except for the coverage your lender makes you buy, everything you buy on home insurance policies is optional — you don't have to buy it."
He adds that much like buying a cell phone with optional features shoppers enjoy, consumers might regret not figuring out what "features" an insurance company offers and consider adding them to a policy.
The example of flood coverage is particularly salient, as most homeowners wrongly assume flooding is covered by their policy, according to Martin.
"The second most common is where we have sub-limits — like debris removal, unscheduled property and jewelry, theft of cash and securities or electronics," he said. "You should go with a company that can sell you more than the 'sub-limit' that is less than you might lose."
Consumers are turning to professionals, doing research
Noting most carriers don't cover things such as communicable diseases, earthquakes, long developing mold, and earth movement, Martin explained the key is for consumers to be precise and ask these types of questions when talking with an agent or carrier.
"They (agents and carriers) can tell you which claims are most often denied or most damaging even if rare and uncovered, and those should be the optional coverages you should consider buying," he said.
While coverage confusion might persist through the life of the policy, homeowners do spend significant time researching policy providers, according to Plymouth. In fact, nearly 70% compared carriers the last time they purchased home insurance, and 47% turned to a home insurance agent when shopping, a sign they are putting research into finding the carrier that fits their needs.