Please call  Lee from  USAsurance Powered by WeInsure & Calle Financial. 954-270-7966 or 833-USAssure at the office. My email is lee@myUSAssurance.com . I am Your Insurance Consultant  about Home Insurance, Auto, Flood, Private Flood, Car, Life Insurance, Mortgage protection, Financial Products, Business  & Commercial Policies, & Group Products for business owners to give Employees benefits at no cost to the employer. My email is lee@myUSAssuranc
Florida's Boyd Promises New Roof Cost and Solicitation Bills
October 29, 2021 Email This Subscribe to Newsletter Email to a friend Facebook Tweet LinkedIn Print Article
Despite recent signals that another round of significant property insurance reforms may be put on the back burner in the upcoming Florida legislative session, a leading committee chair said this week that more needs to be done.
Sen. Jim Boyd, R-Bradenton, chair of the Senate Banking and Insurance Committee, said he will file bills to address roof-replacement costs and solicitation of homeowners by roofers trying to game the system, according to Florida Politics news website.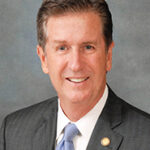 The Florida Legislature last year barred some solicitation tactics by roofers, many of whom have advertised that homes can get new roofs at no cost, with everything billed to the insurer, even if only a few shingles are damaged. A court temporarily blocked that part of the law, Senate Bill 76, saying it violated roofers' right to free speech.
"I understand free speech, and I certainly support and appreciate that," Boyd said at the annual meeting of Florida TaxWatch, a think tank. "But those that are out there causing the problems by doing things that aren't right, there's a question as to how much they should be protected."
He added: "I still think there ought to be a way to hold unscrupulous solicitations accountable."
Boyd also promised something that property insurers have asked for repeatedly: A bill that would limit roof-damage expenses. Florida law now requires that most policies cover the full replacement value of a roof if more than 25% of the shingles are damaged. Insurance advocates want to be allowed to offer some policies that pay only actual cash value of the roof. The changes did not make it into bills passed last year.
The changes would help reduce insurance loss costs, which have soared, insurers have said, as roof replacement prices have spiraled and denied claims have resulted in excessive litigation.
The Florida legislative session starts Jan. 11.