October 18, 2021
Please call  Lee from  USAsurance Powered by WeInsure & Calle Financial. 954-270-7966 or 833-USAssure at the office. My email is lee@myUSAssurance.com . I am Your Insurance Consultant  about Home Insurance, Auto, Flood, Private Flood, Car, Life Insurance, Mortgage protection, Financial Products, Business  & Commercial Policies, & Group Products for business owners to give Employees benefits at no cost to the employer. My email is lee@myUSAssurance.com
Fourteen alleged insurance fraudsters are awaiting court action after they were arrested last week in southwest Florida.
In Manatee County, south of Tampa, 13 men were caught in a sting operation and charged with contracting without a license and failing to have workers' compensation insurance on their workers, the Manatee County Sheriff's Office said in a news release.
The sheriff's office did not say how the sting went down. But in similar operations in recent years, authorities advertised for bids on a local residential construction project. When the contractors arrived to look at the property, authorities checked state databases and found the men to be operating outside state law and regulations. The operation was conducted in conjunction with investigators from the Florida Department of Financial Services, the National Insurance Crime Bureau.
"The purpose of the operation was to address unlicensed contractors who are working without the required contractor license and engaging in construction-class work without the required workers' compensation insurance exemptions," the sheriff's office said.
Those arrested were:
Jake Gratkowski, Oved Otachy, Robert Pinas, Carlos Pena, Harold Leventry, Loren Leonard, Robert Edwards, John Small, Jonathan Pipes, Andrei Razmeritsa, Earl Brown, David Lamothe and Junio Goncalves-Fonseca.
In Naples, Florida, a former insurance agent, jailed a decade ago for pocketing premiums, was arrested last week on charges of leaving the scene of an accident.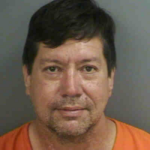 Kenneth Elliott won local fame in 2011, when he was convicted of defrauding at least 20 policyholders. He was sent to prison and ordered to pay more than $68,800 in restitution, including $742 to his own mother, according to a report in the Naples Daily News.
Elliott was released from prison in 2018. In March of this year, he was charged with leaving the scene of an automobile accident, but he failed to appear in court and remained at large until last week.
The man has been ordered held without bond. He has applied for indigent status, claiming to have no income or assets. Court records show he has paid only about $11,000 of the restitution he was ordered to pay in 2011.