By William Rabb
Please call  Lee from  USAsurance Powered by WeInsure & Calle Financial. 954-270-7966 or 833-USAssure at the office. My email is lee@myUSAssurance.com . I am Your Insurance Consultant  about Home Insurance, Auto, Flood, Private Flood, Car, Life Insurance, Mortgage protection, Financial Products, Business  & Commercial Policies, & Group Products for business owners to give Employees benefits at no cost to the employer. My email is lee@myUSAssurance.com
Florida Senate Committee Approves Actual-Cash-Value Roof Bill
By William Rabb | February 2, 2022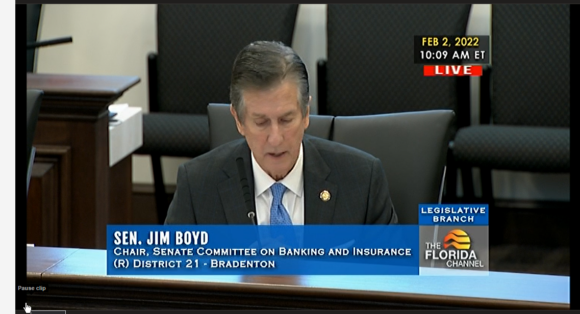 Email This Subscribe to Newsletter Email to a friend Facebook Tweet LinkedIn Print Article
It came later than some had expected, but Florida's Senate Banking and Insurance Committee on Wednesday passed a much-anticipated bill that aims to close gaps left by last year's insurance reform legislation.
Senate Bill 1728, sponsored by committee Chairman Sen. Jim Boyd, R-Bradenton, could help tackle a number of issues that Boyd and others have said are costing insurers and homeowners dearly and have brought Florida's property insurance market near the brink of collapse.
"We will work on this as we move forward, but we have to do something," Boyd said in the committee meeting today. "Doing nothing is not an option."
Other committee members raised questions about the full effect of the bill on homeowners, but agreed that changes are necessary. "Unless we solve this issue, we're going to have an outcry from our citizens of 'where have we been and what have we been doing to solve these issues,'" said committee Vice Chair Sen. Doug Broxson, R-Pensacola.
The committee approved the bill with a 9-2 vote.
Some of the major changes proposed by the bill:
Actual Cash Value
It would roll back the clock on the statute and allow insurers once again to offer homeowner policies that cover only the depreciated or actual cash value of a roof, as opposed to full replacement, which is now required in most policies. Insurers would be able to utilize a roof-surface type reimbursement schedule and could also offer stated-value policies.
Insurance industry advocates have said that full-replacement requirements, coupled with relentless solicitation by roofing contractors, has caused roof losses to explode in recent years.
The bill also would require that policies that use a roof-surface type schedule must continue to provide replacement coverage for roofs less than 10 years old and for roof losses caused by a named hurricane.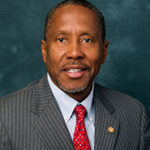 Sen. Darryl Rouson, D-St. Petersburg, along with a plaintiffs' attorney at the meeting warned that limiting roof coverage to actual cash value would hit low-income and elderly homeowners the hardest.
"We've been told that unscrupulous roofers are to blame for the rising insurance premiums here in Florida. However, this bill transfers the risk of that cost to the policyholder," said attorney Clint Moore, of Orlando.
Boyd said that by reducing costs to insurers, premiums for all homeowners' policies should eventually drop, allowing more to afford full-replacement policies.
Solicitation by Roofers
Senate Bill 76, approved in last year's legislative session, attempted to bar most solicitation by roofers promising "free roofs" when damage may be due more to age of the roof than from wind damage. But a court placed a hold on that part of the law, saying it may deprive contractors of their constitutional right to free speech.
SB 1728 would not prohibit solicitation and advertising as long as the contractor provides a statement to the homeowner, in large-print typeface, making it clear that the consumer is responsible for paying the deductible on the insurance policy; that it is a felony for the contractor to pay or waive the deductible or to file a claim with misleading information.
Citizens
The bill would exempt second homes from limits on Citizens Property Insurance Corp. premium increases. Current provisions in state law, known as the Citizens' glidepath, limit rate increases each year. The bill would apply the glidepath only to primary residences.
It also would bar Citizens from renewing policies if the homeowner receives a takeout offer from another insurance company, unless the private carrier's premiums are 20% higher or higher than the Citizens' premiums for comparable coverage.
The measure also would require that Citizens' board members and officers have significant experience in the insurance business, among other changes.
It's unclear how far Boyd's bill will go this year. Some lawmakers and regulators have said that last year's SB 76 should be given time to have an effect, which could take another year or so. With Florida's session limited to 60 days, other hot-button issues, including election redistricting, abortion and others may consume the Legislature's bandwidth.
Sen. Jeff Brandes, R-St. Petersburg, supported SB 1728 but said more changes are needed. He noted that more carriers are dropping coverage, including Florida Farm Bureau Insurance, which has decided to stop writing new homeowner policies in the state, along with TypTap Insurance Co.
Photo: Sen. Boyd at Wednesday's committee meeting. (Florida Channel)