By William Rabb
Please call  Lee from  USAsurance Powered by WeInsure & Calle Financial. 954-270-7966 or 833-USAssure at the office. My email is lee@myUSAssurance.com . I am Your Insurance Consultant  about Home Insurance, Auto, Flood, Private Flood, Car, Life Insurance, Mortgage protection, Financial Products, Business  & Commercial Policies, & Group Products for business owners to give Employees benefits at no cost to the employer. My email is lee@myUSAssurance.com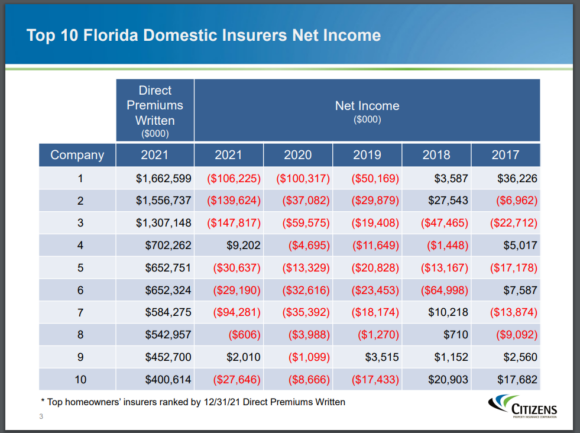 Email This Subscribe to Newsletter
Email to a friend Facebook Tweet LinkedIn Print Article
Citizens Property Insurance Corp. directors said Wednesday they continue to worry about the state of the Florida insurance market, Citizens' growth and its potential losses, despite $6.5 billion in surplus and an $81 million net gain for 2021.
"We just want to be solvent so when a CAT event comes, we are not sticking Floridians with Citizens' assessments across the state," Citizens Board Chairman Carlos Beruff said at the insurer's quarterly board meeting. "That is my mission."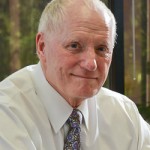 The state-backed insurer of last resort, which has grown to be the largest property/casualty carrier in Florida, has posted underwriting losses since 2015, as have many other carriers. In 2021, Citizens saw underwriting losses of almost $166 million, company reports show. But thanks to its large surplus, the carrier has been able to offset the losses with significant investment income.
But other Florida insurers haven't been so fortunate. Two were deemed insolvent this year, thanks in part to inadequate reserves. That means more jilted policyholders will turn to Citizens and its statutorily limited premium increases, despite a Citizens depopulation plan now underway. The insurer is expected to top 1 million policyholders by the end of the year, president Barry Gilway said at the meeting, giving it almost twice as many insureds as the next-largest carrier in the state.
Gilway gave a stark scenario of what so many policies-in-force could mean: In 2017, when Hurricane Irma hit parts of the state, Citizens held 400,000 policies and saw 78,000 claims. If another Irma-level hurricane, with winds as high as 185 mph were to hit this year, Citizens could have as many as 200,000 claims, he said.
"The recent insolvencies are concerning but what really concerns me is the financial condition of the remaining companies," Gilway told the board.
His report showed that of the top 10 domestic carriers in Florida, all but two had posted net losses for 2021. Three showed losses of more than $100 million, outpacing 2020's red numbers when only one insurer posted a net loss of more than $100 million.
Overall, Florida domestic and foreign companies saw just over $1 billion in net losses for 2021, according to S&P Global Market Intelligence Data, Gilway noted.
Citizens' $6.5 billion in surplus may seem like a huge number, especially when compared to the other 52 Florida insurers, which have a combined surplus of $3.6 billion, Gilway said. But he warned that reducing the Citizens' surplus would mean less money for investments, which has kept the insurer in the black.
Directors urged staff to continue to find ways to reduce costs and strengthen the bottom line in the midst of a worsening Florida market, high levels of claims litigation, and no rescue bills approved by the Florida Legislature so far this year. Staff reported that Citizens' total workforce, 1,841, is about what it was in 2009, but is 17% higher than in 2015 when the insurer employed 1,571 people.
The big driver behind costs continues to be litigation, officials said. The carrier reported $343 million in loss adjustment expenses in December 2021, some $94 million more than in December 2020. Gilway said that in 2013, Citizens fielded 27,000 litigated claims. By last year, the number had climbed to about 100,000.
"It clearly is the litigation," especially for water-related claims, one official said. "This is our Alamo – water claims. The sinkhole (problem) got fixed, now they've another loophole. We need to close that loophole."
Chart: Courtesy of Citizens. Homeowner insurers ranked by direct premiums written in 2021.