Please call  Lee from  USAsurance Powered by WeInsure & Calle Financial. 954-270-7966 or 833-USAssure at the office. My email is lee@myUSAssurance.com . I am Your Insurance Consultant  about Home Insurance, Auto, Flood, Private Flood, Car, Life Insurance, Mortgage protection, Financial Products, Business  & Commercial Policies, & Group Products for business owners to give Employees benefits at no cost to the employer. My email is lee@myUSAssurance.com
Dozens of residents of a five-story condominium in North Miami Beach were ordered to evacuate the building Monday after engineers found that concrete slabs had sagged beyond the amount was considered safe, and the condo was deemed structurally unsound.
The Miami Herald reported that the building, about three miles north of the Champlain Towers South that partially collapsed last summer, held 60 units. The engineering report was done as part of the condo's 50-year safety review, required by local statutes.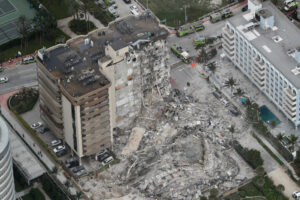 Engineer Brownie Taurinski wrote that the building "must be evacuated immediately." It was not clear how many residents were affected, but the newspaper noted that they each were given $150 to stay in hotels for three nights.
"I was working and they called me to say I needed to evacuate," Andrea Tores, who has lived in the building for one year, said Monday, according to the Herald. "We don't know where to go, we don't know what to do. They will book us a hotel but we need to find out where to live."
Since July, the building at 3800 Northeast 168th St., known as Bayview 60 Homes, had been undergoing work as part of its recertification process, city officials explained. Miami-Dade County and Broward County require that high-rise condos be inspected and recertified 40 years after being built, and every 10 years thereafter.
The inspection and repair of Florida condominiums has received extensive attention after the collapse of the Champlain Tower condo on June 24. A bill to require 30-year inspections statewide did not pass the Florida Legislature, which ended its regular 2022 session March 11.
This is the second condo building to be evacuated and closed since the Champlain Towers fell, killing 98 people in Surfside, next door to Miami Beach. In July, the 10-story Crestview Towers was closed and residents have not been allowed to return, according to news reports.
The engineering report on the Bayview 60 structure was filed Friday evening, but residents were not alerted until Monday. A Miami-Dade County commissioner questioned why residents and city officials weren't notified sooner.
The engineering report found that concrete slabs at the condo had "deflected" considerably, or deviated from their original elevation, exceeding guidelines established by the American Concrete Institute.
"When you have deflections that are larger than what the ACI code prescribes or expects, it means that there's something happening in the structure, the structure is more flexible than it should be," an engineering researcher at Drexel University told the newspaper.
TOPICS CONDOMINIUM