Please call  Lee from  USAsurance Powered by WeInsure & Calle Financial. 954-270-7966 or 833-USAssure at the office. My email is lee@myUSAssurance.com . I am Your Insurance Consultant  about Home Insurance, Auto, Flood, Private Flood, Car, Life Insurance, Mortgage protection, Financial Products, Business  & Commercial Policies, & Group Products for business owners to give Employees benefits at no cost to the employer. My email is lee@myUSAssurance.com
Crist Slams DeSantis on Insurance Crisis, But Offers No Details on His Own Plan
April 5, 2022
Email This Subscribe to Newsletter
Email to a friend Facebook Tweet LinkedIn Print Article
In one of the first mentions of the Florida property insurance crisis as a campaign issue, U.S. Rep. Charlie Crist spoke out against what he called the incumbent governor's lack of action on rising premiums and insurer financial troubles.
"Prices are rising and Floridians are hurting, but Gov. DeSantis is ignoring the problem — he'd rather focus on culture wars and his 2024 political ambitions," Crist said in a statement on the Twitter social media site.
But Crist, who was Florida governor from 2007-2011 and is running again this year, did not provide details on how he would address the insurance problems in the state, including rate increases, extreme amounts of claims litigation, and the liquidation of six insurers in the last 31 months.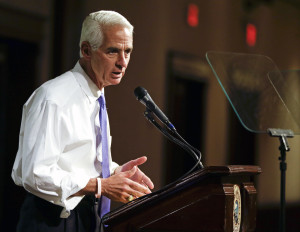 On Twitter, he said only that, "Gov. DeSantis has turned a deaf ear to the insurance crisis facing our state. When I was governor, I lowered property insurance premiums. And when I'm elected, I'll do it again."
The Insurance Journal in recent weeks has asked Crist and his staff for details on his insurance reform plan, but has not heard back.
Gov. Ron DeSantis has said he is not opposed to a special legislative session to deal with the crisis, if lawmakers convene one. But he has offered no roadmap for addressing Florida's unique insurance landscape, which includes hurricane losses and what insurers call exaggerated and fraudulent roof-replacement claims. At least six carriers have stopped writing new business in the state this year and two have been put into liquidation.
A special session has been called for later this month to consider DeSantis' Congressional redisctricting plan, but it won't examine property insurance matters. DeSantis said another session may be scheduled after current House Speaker Chris Sprowls leaves office.
The regular, 2022 session ended March 11 without passage of significant reforms. Senate Bill 1728, which would have made a number of changes favored by the insurance industry, passed the Senate but stalled in the House as the end of the statutory 60-day session approached.
When Crist was in the governor's office more than a decade ago, he famously said "good riddance" to State Farm's property insurance company, Florida Politics news outlet reported. The insurance carrier had threatened to leave the state when Crist refused to budge on some regulations and allow larger rate hikes after the 2004-2005 storm seasons.
Was this article valuable?YESNO