Please call  Lee from  USAsurance Powered by WeInsure & Calle Financial. 954-270-7966 or 833-USAssure at the office. My email is lee@myUSAssurance.com . I am Your Insurance Consultant  about Home Insurance, Auto, Flood, Private Flood, Car, Life Insurance, Mortgage protection, Financial Products, Business  & Commercial Policies, & Group Products for business owners to give Employees benefits at no cost to the employer. My email is lee@myUSAssurance.com
After addressing Florida's insurance crisis, lawmakers on Tuesday quickly approved another piece of legislation they did not get to during the regular session in March – a revamp of condominium laws that would require more frequent inspections, more reserved funding for repairs, and more reporting of structural conditions.
"The insurance industry should love this because now they'll have data on the buildings, and they can see which condos are not being maintained," said Travis Moore, a lobbyist and consultant for the Community Associations Institute. He spoke in favor of HB 5D on Tuesday.
The condo reform bill was added to the special session's agenda at the last minute this week. The House Appropriations Committee, after hearing four hours of testimony and debate on a property insurance reform package, quickly endorsed the condominium bill Tuesday night by a vote of 29-0. The full Senate earlier in the day had added the language as part of its version of the insurance crisis bill.
Both chambers are expected to reconcile the measures today and send them to the governor.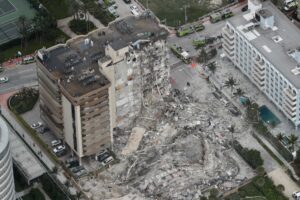 The condominium law changes have been demanded for months, after the 12-story Champlain Towers South condo near Miami Beach collapsed June 24, 2021, killing 98 people. The 40-year-old condo had just begun some much-needed and long-awaited repairs when the collapse occurred.
The reform measure, if signed into law, will require structural inspections of all residential buildings three stories or higher – statewide – 30 years after construction, then every 10 years after that. For buildings that are within three miles of the coast, the inspections must be done after 25 years and then every seven years. Currently, only two South Florida counties require regular inspections.
The new bill also would make building inspection reports available to unit owners and local building officials.
Perhaps most importantly, condominium associations would, after December 2024, no longer be able to easily waive reserve funding requirements from unit owners. Currently, condo associations in Florida have been able to postpone collecting payments for needed repairs with a simple majority of condo board members present at board meeting, Moore explained.
"The bill provides that effective December 1, 2024, a unit-owner controlled association may not waive collecting reserves or collect less reserve funds than required for items that are required to be inspected in a structural integrity reserve study for an association building that is three stories or higher in height," a legislative analysis of the bill explains. "In addition, unit-owner controlled associations may not use such reserve funds for purposes other than their intended purpose."
The bill also would require condo associations to conduct reserve studies every 10 years.
"Before a developer turns over control of an association to unit owners other than the developer, the developer must have a structural integrity reserve study completed for each building on the condominium property that is three stories or higher in height," the analysis reads.
"This is a very good piece of legislation," said Rep. Joseph Geller, D-Aventura.
"We were able to accomplish — not just for Surfside families but for all Floridians that live in condominiums — a product that they should be proud of, because I think we accomplished our goal, which is one step closer to making sure what happened in Surfside never happens again," bill sponsor Rep. Daniel Perez, R-Miami, told Florida Politics.
After the tower collapsed 11 months ago, some insurance companies have balked at writing new condo insurance while others have demanded more inspection reports. In coming years, insurers will have more access to more-frequent reports, supporters of the bill said.