Please call  Lee from  USAsurance Powered by WeInsure & Calle Financial. 954-270-7966 or 833-USAssure at the office. My email is lee@myUSAssurance.com . I am Your Insurance Consultant  about Home Insurance, Auto, Flood, Private Flood, Car, Life Insurance, Mortgage protection, Financial Products, Business  & Commercial Policies, & Group Products for business owners to give Employees benefits at no cost to the employer. My
Miami Beach Condo Evacuated After Cracks Worsen in Support Beams
October 28, 2022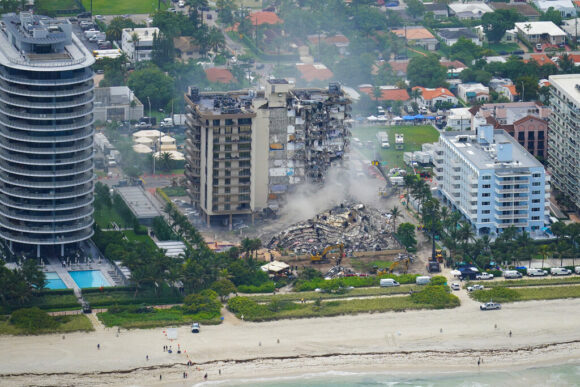 Email This Subscribe to Newsletter
Email to a friend Facebook Tweet LinkedIn Print Article
NEWYou can now listen to Insurance Journal articles!
Listen to this article
0:00 / 1:571X
A 14-story condominium building in Miami Beach, less than two miles from the collapsed Champlain Towers South, has been ordered evacuated after engineers found expanding cracks in a main support beam.
The Miami Herald reported Thursday that city officials ordered residents of the 164-unit Port Royale, at 6969 Collins Ave., to clear out immediately. Engineers plan to reinforce the damaged support structure within 10 days, but it wasn't clear when or if residents will be allowed to return.
A Miami-Dade County ordinance, approved after the Champlain Tower in nearby Surfside collapsed in June 2021, killing 98 people, requires condo building owners to provide three months of housing if the structure is deemed unsafe due to negligence or lack of maintenance, the newspaper reported. It was unclear if the Port Royale management was offering the assistance at this time, the newspaper said.
The Port Royale building is undergoing repairs identified as part of its 50-year recertification, required by law. Inspectors recently found spalling, cracking and other deterioration, and temporary supports had been installed. But a letter from an engineering firm this week said that needed repairs for a main support beam in the garage were much more complicated that originally expected, the Herald noted. The city of Miami Beach also had issued an "unsafe structure notice."
Engineers and municipal inspectors in south Florida are working to evaluate hundreds of buildings after the 2021 collapse put officials on high alert, and after new statutes required more inspections. The Florida Legislature in May approved Senate Bill 4D, which requires inspections for high-rise condos in Florida 30 years after construction, and more frequently for structures closer to the coast.
Another condo building near the collapse site was ordered evacuated in April of this year after a scheduled recertification process found it to be unsafe.
Photo: The site of the Champlain Towers South, which collapsed in June 2021, north of Miami Beach. (AP Photo/Gerald Herbert, File)