Please call  Lee from  USAsurance Powered by WeInsure. 954-270-7966 or 833-USAssure at the office. My email is lee@myUSAssurance.com . I am Your Insurance Consultant  about Home Insurance, Auto, Flood, Private Flood, Car, Life Insurance, Mortgage protection, Financial Products, Business  & Commercial Policies, & Group Products for business owners to give Employees benefits at no cost to the employer.
Spiking insurance costs are impacting the real estate market in south Florida, causing some developers to put major projects on hold – despite booming demand for residential and commercial property.
The Wall Street Journal reported Tuesday that a number of developers behind high-rise buildings and apartment communities have pulled the plug on projects due to the sharp rises in insurance premiums, alongside the cost of inflation and higher interest rates.
One San Antonio development executive who had planned large apartment buildings in south Florida told the newspaper that the insurance costs alone, up 30% in recent months, can kill a deal.
While insurance costs three years ago were about 2% of total project costs, now they can be about 8%. That includes builders' risk insurance, covering damage while the building is under construction; liability insurance; construction defect coverage; and property insurance after construction is finished.
Florida is notorious for its insurance claims litigation, which has been called a driving factor behind rising property insurance premiums and insurer insolvencies. But the state also has seen an increase in construction defect litigation, the Journal reported. In the wake of the collapse of the Champlain Towers South condominium building in 2021, condo associations find themselves under new pressure. After a building is completed, many condo boards now hire engineers to inspect and if any defects are found, and developers don't correct them, the associations are prone to sue, one construction attorney told the newspaper.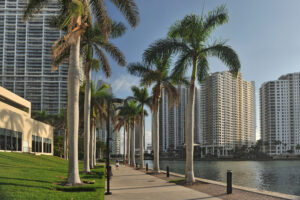 The Champlain Towers collapse that killed 98 people also has affected insurers and costs in another way: One lawsuit argues that the construction of a high-rise building next to the collapsed condominium destabilized the structure. Now, insurance carriers have to be prepared not only for claims from the insured property, but for adjacent properties as well, New York-based developer Ian Bruce Eichner explained.
Many developers have had to resort to using multiple insurers to cover one property. And the problem could soon worsen, as property insurance premiums are expected to rise in the wake of Hurricane Ian, which caused an estimated $40 billion in insured losses, and insurers pull back from vulnerable coastal areas, according to some estimates.
An insurance broker at Lockton, Fred Zutel, told the newspaper that all of the factors have made Florida the single-most difficult environment in which to procure insurance.
A special session of the Florida Legislature, set for Dec. 12-16, may address some of the cost factors for insurers, including litigation and reinsurance. But industry analysts have said it could take more than a year for any changes to make a difference.
Photo: The collapsed Champlain Towers South building in 2021. (AP)