Please call  Lee from  USAsurance Powered by WeInsure. 954-270-7966 or 833-USAssure at the office. My email is lee@myUSAssurance.com . I am Your Insurance Consultant  about Home Insurance, Auto, Flood, Private Flood, Car, Life Insurance, Mortgage protection, Financial Products, Business  & Commercial Policies, & Group Products for business owners to give Employees benefits at no cost to the employer.
Torrential Rain Floods Parts of South Florida, Closing Schools, Airport, Rail Service
April 14, 2023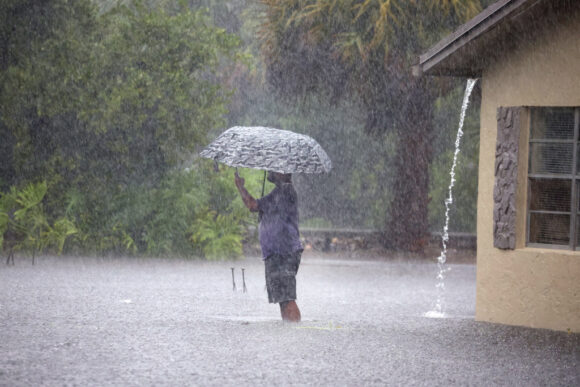 Email This Subscribe to Newsletter
Email to a friend Facebook Tweet LinkedIn Print Article
NEWYou can now listen to Insurance Journal articles!
Listen to this article
0:00 / 3:041X
Nearly a foot of rain fell in a matter of hours in Fort Lauderdale – causing widespread flooding, the closure of the city's airport, schools and the suspension of high-speed commuter rail service for the Broward County region.
"Police and Fire Rescue continue to answer calls for service," the city of Fort Lauderdale said in a statement. "Public Works staff are clearing drains and operating pumps to mitigate the water as quickly as possible."
The National Weather Service issued a flash flood emergency for Fort Lauderdale and other areas will run into pre-dawn hours Thursday as the chance of thunderstorms continued across the region, warning: "This is a life-threatening situation. Seek higher ground now!"
There have been no immediate reports of injuries or deaths.
Up to 14 inches had fallen across the area through Wednesday and the National Weather Service said another 2 to 4 inches were possible as a warm front continued to push northward, bringing a chance of thunderstorms.
Hollywood Mayor Josh Levy told CNN that the area already had seen days of rain. "The ground was already saturated so there is extensive flooding all over our city and throughout South Florida. Many roadways are impassable. Lots of vehicles got stuck and left abandoned in the middle of our roadways," Levy said. "I've lived here my whole life. This is the most severe flooding that I've ever seen."
More than 22,000 customers in Florida were without electricity Wednesday night, according to poweroutage.us.
All Broward County Public Schools with be closed Thursday, the district tweeted, adding "All afterschool activities, events, and extracurricular activities are also cancelled tomorrow."
Wednesday's relentless showers prompted the airport, one of the largest in the region, to suspend all arriving and departing flights, the airport tweeted around 4:15 p.m.
At around 5 p.m., the airport announced it shut down ground transportation shuttle service in response to recurring tornado warnings and ongoing heavy rainfall.
The main roadways entering and exiting the airport were flooded and impassable, the airport said around 5:15 p.m.
"Please do not attempt to enter or leave the airport at this time," it warned.
It said airport operations would restart once the weather improves in the Fort Lauderdale area.
The heavy rains also prompted South Florida's high-speed commuter rail service to shut down. Brightline posted on Twitter Wednesday evening that train service between Miami and Fort Lauderdale was suspended.
The National Weather Service in Miami declared a flash flood emergency around 8 p.m. Wednesday for Fort Lauderdale, along with the areas around Hollywood and Dania Beach. A short time later, forecasters issued a tornado warning for nearby Davie, Plantation and Lauderhill.
Video taken by witnesses showed water coming in the door at an airport terminal and a virtual river rushing down the tarmac between planes.
On Broward Boulevard, a man was seen swimming to the curb on the flooded street at rush hour as cars rolled by.
Drivers recorded themselves rolling through streets where brown, swirling water was up to the wheel wells or nearly to the hood of cars.
Top photo: A man stops to take pictures of his flooded neighborhood along SW 3rd Street and SW 4th Ave in Dania Beach, Florida, on Wednesday. (Carline Jean/South Florida Sun-Sentinel via AP)
Copyright 2023 Associated Press. All rights reserved. This material may not be published, broadcast, rewritten or redistributed.
TOPICS FLORIDA FLOOD AVIATION K-12
Was this article valuable?YESNO