By William Rabb |
Please call  Lee from  USAsurance Powered by WeInsure. 954-270-7966 or 833-USAssure at the office. My email is lee@myUSAssurance.com . I am Your Insurance Consultant  about Home Insurance, Auto, Flood, Private Flood, Car, Life Insurance, Mortgage protection, Financial Products, Business  & Commercial Policies, & Group Products for business owners to give Employees benefits at no cost to the employer.
More rich and more poor residents will qualify for home-hardening grants under an expanded My Safe Florida Home measure approved by lawmakers.
House Bill 881, if signed into law, will raise the wind-mitigation grant level for low-income Florida homeowners from $5,000 to $10,000, the same as for more affluent residents. It also will allow mitigation funding for homes with insured values of as much as $700,000, up from $500,000. The Florida House of Representatives approved the bill last week with no dissenting votes, followed by the state Senate two days later.
"As the 2023 hurricane season approaches, Floridians are looking for ways to harden their homes and reduce their insurance costs. The 'My Safe Florida Home' program does just that, and I am proud to support HB 881, which will expand upon eligibility requirements," Florida's chief financial officer, Jimmy Patronis, said in a statement.
Patronis is hoping that a 2023-2024 state budget will include another $100 million in funding for the program, which helps pay for storm shutters, stronger roof-to-frame connectors and roof systems. With the legislative session set to adjourn on Friday, lawmakers have said they have negotiated a budget that's $6 billion larger than this year's spending plan, according to news reports.
HB 881 would require free evaluations by trained inspectors before the retrofits are approved. The program would also be expanded statewide, no longer just for homes in a designated wind-borne debris area, according to a legislative analysis.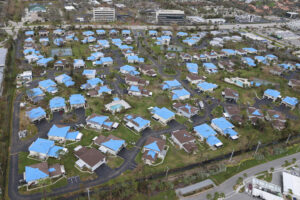 Low-income residents are defined by state law as those with an annual income of less than 80% of the median annual income in the state. The median household income in Florida was about $62,000 in 2021, according to the state Department of Health. Those homeowners were limited to just $5,000 in repairs under the previous program but can soon receive up to twice that much if the bill becomes law.
Homeowners must match the grants: For every $2 in program funding, the resident must provide $1.
The program began in 2006, but was defunded after just two years due to scandals and long waiting lists for the work, Florida Politics news site has reported. The plan was revived in 2022 and lawmakers provided a one-time appropriation of $150 million.
The program was criticized again late last year for a slow roll-out, but Patronis' office said he ordered an expedited launch date in November. Between May 2022 and February 2023, 16,724 mitigation inspections were completed and 2,979 grant applications were approved, the bill analysis explains. That's far fewer than the 11,000 grants that had been anticipated.
Residents can apply here for the grants.
Some sales-tax exemptions also are available for materials used for home hardening, through June of 2024.
Patronis' Department of Financial Services has not said how much the retrofitting may reduce homeowner insurance premiums. But for one Pensacola home that is not in a flood zone, for example, wind mitigation work done in 2007 helped cut the annual premium from about $6,600 to about $2,500.
Other Southeast states have established similar programs in recent years. Alabama's Department of Insurance announced this week that its Safe Alabama Homes, begun in 2011, has retrofitted some 6,000 homes. That program requires no matching funds from homeowners and provides grants of up to $10,000. In 2019, the North Carolina Insurance Underwriting Association launched a Strengthen Your Roof grant program that has aided thousands of homes, officials said.