May 11, 2022
Please call  Lee from  USAsurance Powered by WeInsure & Calle Financial. 954-270-7966 or 833-USAssure at the office. My email is lee@myUSAssurance.com . I am Your Insurance Consultant  about Home Insurance, Auto, Flood, Private Flood, Car, Life Insurance, Mortgage protection, Financial Products, Business  & Commercial Policies, & Group Products for business owners to give Employees benefits at no cost to the employer. My email is lee@myUSAssurance.com
Three Florida legislators will hold a town hall-type meeting Thursday to gain input from residents ahead of the special session called to examine the state's property insurance issues.
The gathering in Melbourne City Hall, starting at 6 p.m., was organized by Rep. Randy Fine, R-Palm Bay. Rep. Thad Altman, R-Indialantic, and Senate Majority Leader Debbie Mayfield, R-Indialantic, also will attend, according to a Florida Today news report.
Fine said rising homeowner premiums have generated more phone calls and emails to his office than any other issue in recent months. Residents at the town hall will be able to voice their concerns about what should be done about the crisis.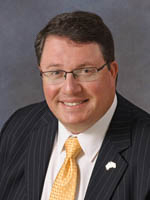 "As the Legislature prepares to return to Tallahassee this month to tackle the crisis in property insurance, I want to give my constituents from around Brevard County the opportunity to share their perspective with me, Sen. Mayfield and Rep. Altman, as we figure out how to tackle this complex issue," Fine said in a statement. "For me, this event will primarily be an opportunity to listen."
At the top of the list of concerns, Fine said, is the number of inappropriate claims for supposed hail damage to roofs, which are resulting in increased expenses for the insurers and financial losses.
Members of the public who sign up to speak on Thursday each will be given an amount of time, based on the total number wishing to speak, the newspaper reported.
Gov. Ron DeSantis has called lawmakers to the May 23-27 session to examine a number of property insurance issues, including possible changes to the Florida Hurricane Catastrophe Fund that could help reduce the cost of reinsurance, along with ways to limit claims and litigation, including wider use of binding arbitration.